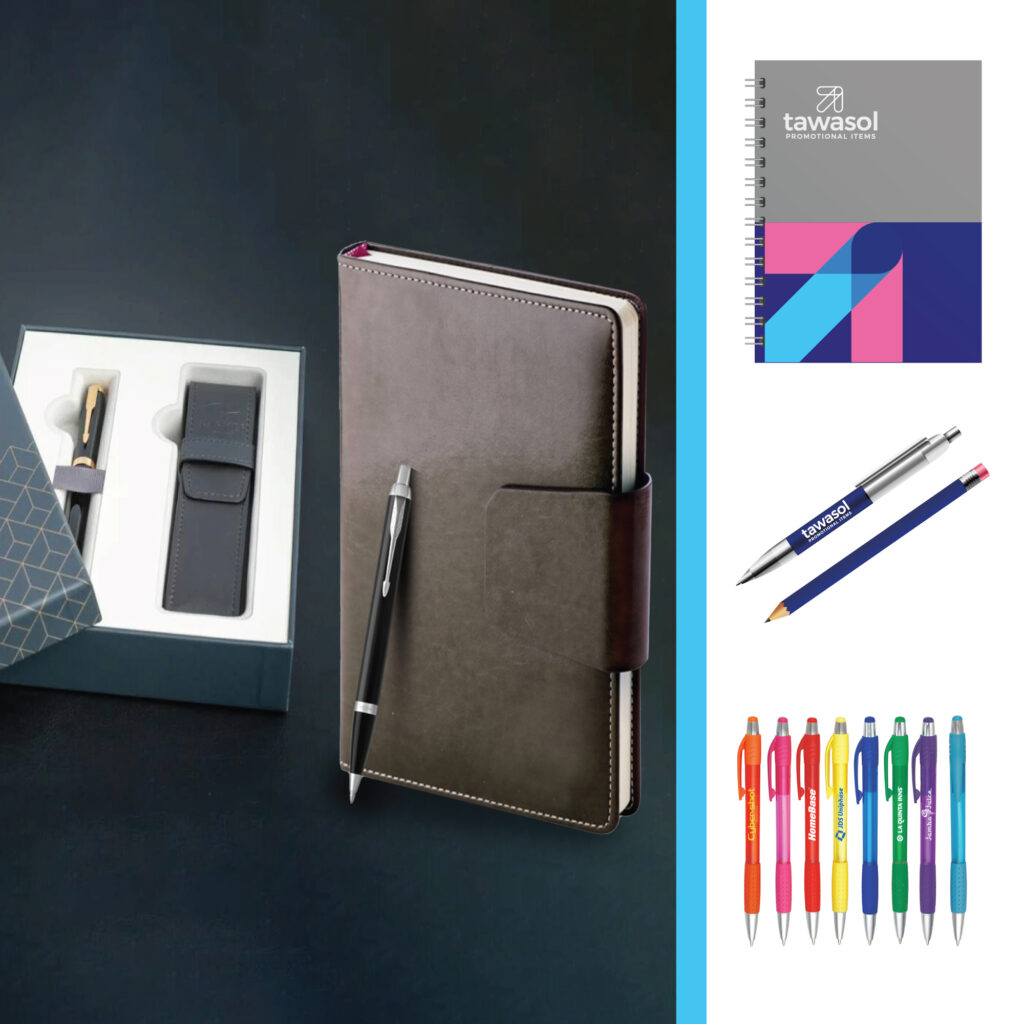 Welcome to Tawasol by CCMC's Custom Stationery and Writing Promotional Gifts collection. Unleash the power of the written word with our range of personalized stationery and gifts. Elevate your brand story one stroke at a time.
Why Choose Our Custom Stationery
Elevate your brand's narrative with our custom stationery and writing promotional gifts, featuring:
Endless Creativity: From branded pens to notebooks, our range allows your brand to shine through creativity.

Everyday Visibility: Custom stationery integrates your brand seamlessly into daily routines, enhancing exposure.

Thoughtful Gifting: Our writing promotional gifts add a personal touch, making them perfect for clients and employees.
Explore Custom Stationery Categories
Branded Writing Instruments: Choose from an array of pens, pencils, and stylus options that carry your logo with every jot.

Personalized Notebooks: Enhance organization and brand recall with customizable notebooks for all occasions.

Desk Essentials: Elevate workspaces with branded paperweights, desk organizers, and more.
How to Order Custom Stationery
Request a tailored quotation for your custom stationery and writing promotional gifts:
Selection: Browse our catalog and jot down the items you wish to personalize.

Quotation Request: Click the "Request a Quotation" button below to access the form.

Customization Details: Fill the form with contact details, selected items, quantities, and customization preferences. Or just simply get in contact with us for a Consultation on your brand need. Submit the form in our contact page to get your personalized quotation and answers.
Enhance Your Brand Story
Elevate your brand with Tawasol by CCMC's custom stationery and writing promotional gifts. Every stroke becomes an opportunity to leave your mark. Start your journey today!
Explore other categories in our promotional items and gifts collection: Apparel, Drinkware, Bags, Tech Items, Home Office, and Accessories.