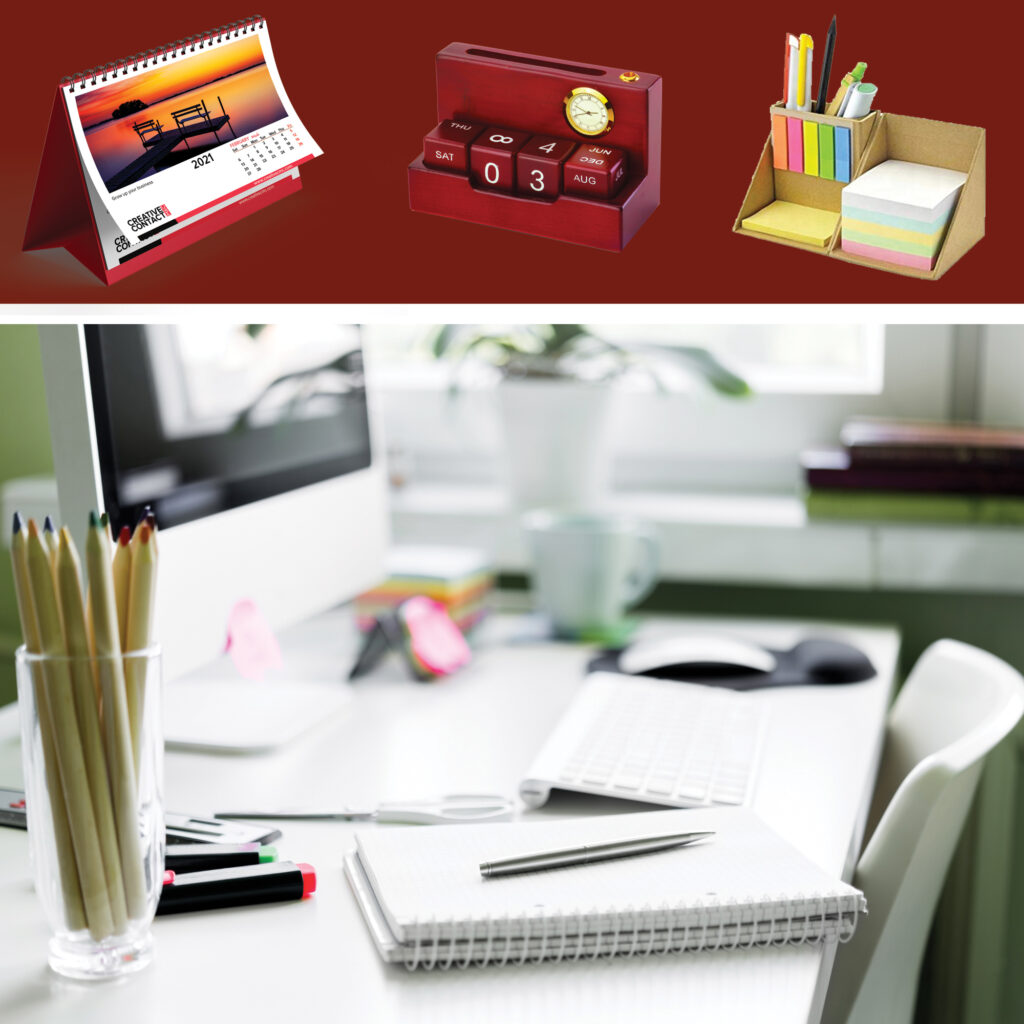 Welcome to Tawasol by CCMC's Custom Office Supplies collection. From customized calendars to essential office equipment and personalized nameplates, we offer a diverse range of products to elevate your brand's presence in the workplace. Explore how you can enhance your office with these personalized essentials.
Why Choose Our Office Supplies

Elevate your brand's office presence with our custom office supplies, featuring:
Efficiency Boost: Equip your workspace with personalized office equipment designed for enhanced productivity.

Professional Touch: Impress clients and employees with stylish office supplies that reflect your brand's professionalism.

Custom Branding: Personalize office supplies to align with your brand's identity, ensuring a lasting impression.
Explore Office Supplies Categories
Calendars and Planners: Discover customizable calendars and planners that help you stay organized while showcasing your brand's message.

Essential Office Equipment: Elevate your workspace with personalized equipment, including stationery, organizers, and more.

Personalized Nameplates: Add a professional touch to your office with customized nameplates that display your brand prominently.
How to Order Custom Office Supplies
Request a personalized quotation or a free consultation to find the ideal office supplies for your brand:
Selection: Browse our catalog and select the office supplies that match your brand's office aesthetics and requirements.

Quotation Request: Click the "Request a Quotation" button below to access the form. Provide your contact information, selected office supplies, quantities, and customization preferences. Submit to receive your tailored quotation.

Free Consultation: If you're uncertain about your selection, opt for a free consultation by completing the form. Our experts will assist you in choosing the perfect custom office supplies to enhance your brand's workspace.
Elevate Your Workspace
Transform your office into a branded showcase with Tawasol by CCMC's custom office supplies. Each item is an opportunity to enhance productivity and leave a lasting impression. Start enhancing your office's brand presence now!
Explore other categories in our promotional items and gifts collection: Apparel, Drinkware, Writing Instruments, Bags, Tech Items, and Accessories.