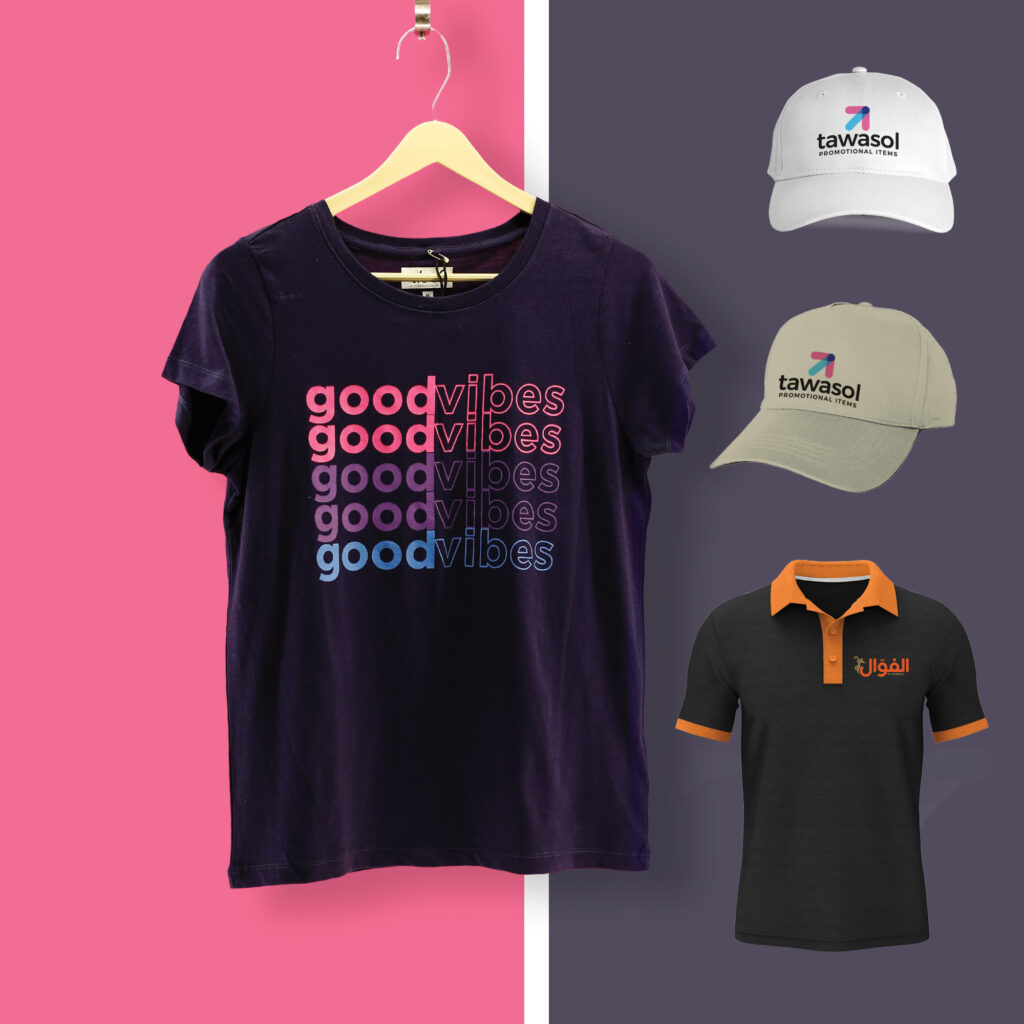 Are you looking for apparel for your business? Tawasol by CCMC can help! We offer a wide selection of apparel and custom-branded clothing , including t-shirts, hoodies, polos, sweaters, jackets, and more. We can also customize apparel with your company logo or branding.
Why Choose Tawasol's Branded Clothing:

At Tawasol by CCMC, we understand the importance of using clothing as a canvas for your brand. Our apparel collection is curated with the following key features in mind:
Quality Craftsmanship: Each piece in our collection is crafted with precision and attention to detail, ensuring not only a comfortable fit but also a lasting impression.
Diverse Styles: Whether you're looking for professional attire, casual wear, or sporty outfits, we offer a diverse range of styles to match your brand's identity and your audience's preferences.
Customization Options: Our apparel items are fully customizable, allowing you to imprint your logo, tagline, or artwork. Make your brand stand out with a personalized touch.
Comfortable Fabrics: We prioritize both style and comfort. Our apparel is made from high-quality fabrics that feel great to wear throughout the day.
Explore Our Apparel Categories:
Corporate Elegance: Elevate your brand's image with our collection of professional corporate attire. From tailored blouses and shirts to sophisticated jackets, these pieces are perfect for the boardroom and beyond.
Casual Comfort: For a more relaxed yet branded look, explore our range of casual tees, polos, and hoodies. Perfect for company outings, team-building events, and everyday wear.
Sporty Vibes: Keep your team motivated and energized with our sporty apparel options. Choose from performance tees, activewear, and outerwear that effortlessly blend comfort and functionality.
Event Attire: Make a statement at events and trade shows with our event-specific apparel. Stand out from the crowd and leave a lasting impression on potential clients and partners.
Personalize Your Apparel:
Make each piece uniquely yours by adding your logo, company name, or artwork. Our customization process ensures that your brand message is showcased prominently on every item you choose.
How to Order:
Ordering your custom-branded clothing and promotional items from Tawasol by CCMC is a flexible and straightforward process designed to meet your unique needs. Here's how you can get started:
Explore Our Catalogue: Take your time to browse through our comprehensive catalogue showcasing a wide range of custom-branded clothing and promotional items. We're here to accommodate your preferences, whether you're looking for apparel, accessories, drinkware, tech items, bags, writing instruments, or home office products.
Choose Your Desired Items: As you navigate through the catalogue, note down the names and any specific details of the items that align with your branding vision. We're here to fulfill your requirements, no matter how specific they are.
Request a Custom Quotation: Once you've identified the items you'd like for your branded clothing collection, simply reach out to us to request a personalized quotation. You can do this by filling out our "Request for Quotation" form or by contacting our team directly.
Share Your Requirements: Provide us with the necessary details in the form, including your contact information, the specific items you're interested in, the quantities you need, any customization preferences (such as colors, sizes, and branding placement), and any additional comments or requests you might have.
Tailored Quotation Process: Once we receive your request, our experienced team will carefully review your requirements and craft a custom quotation based on the items you've selected and the customization options you desire.
Receive and Review: Expect to receive your personalized quotation via email promptly. The quotation will outline all associated costs, ensuring transparency and clarity.
Clarifications and Adjustments: Review the quotation and feel free to reach out to us if you have any questions or if you'd like to make adjustments. We're here to ensure that you have all the information you need to make an informed decision.
Confirm Your Order: Once you're satisfied with the quotation and ready to move forward, simply confirm your order by replying to our email or contacting us. We'll guide you through the next steps, ensuring a seamless process from customization details to delivery.
At Tawasol by CCMC, our goal is to provide you with a personalized and accommodating experience. Our "Request for Quotation" process allows us to cater to your unique needs, enabling you to curate a branded clothing collection that perfectly aligns with your vision. Contact us today to embark on the journey of creating standout promotional items for your brand.