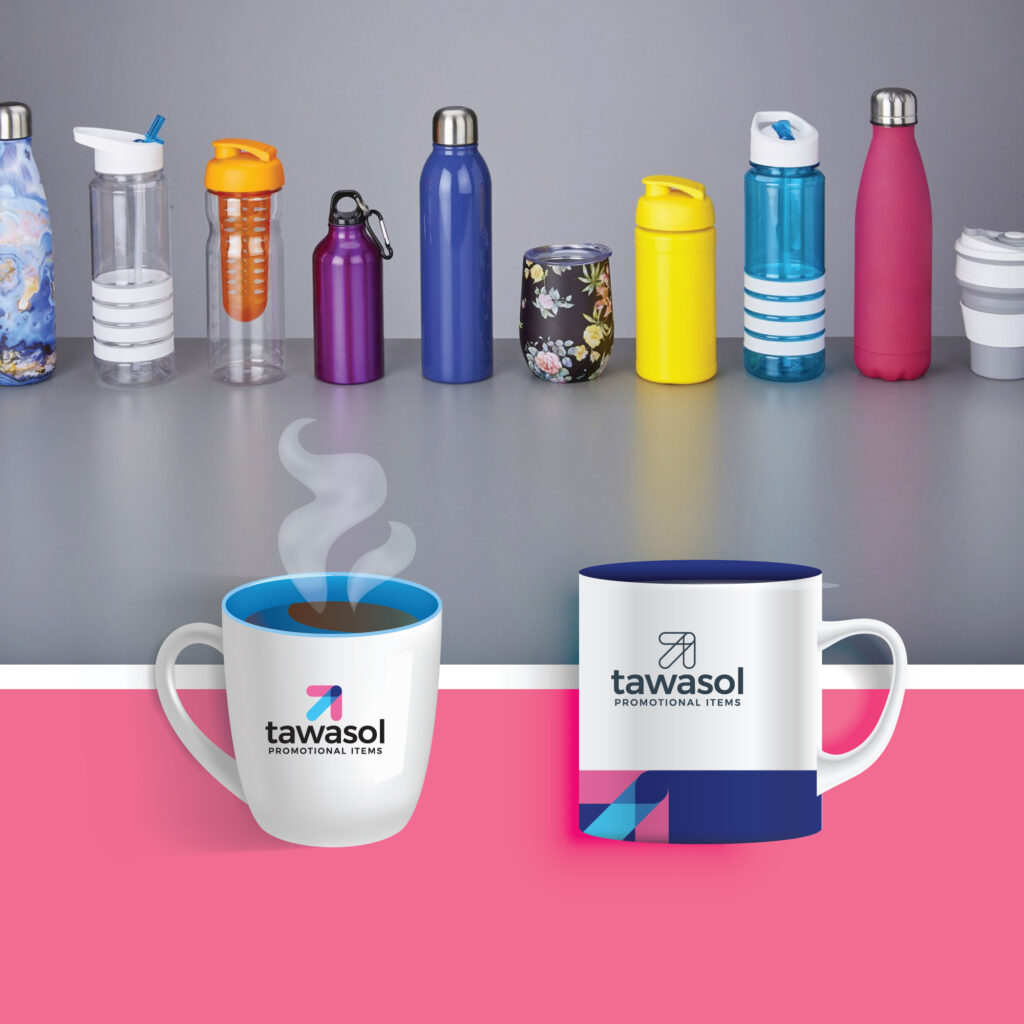 Welcome to Tawasol by CCMC's Custom Branded Drinkware collection. Elevate your brand presence with our diverse range of promotional drinkware, including mugs, water bottles, glasses, and paper cups. Embrace customization and make your brand memorable with every sip.
Why Choose Our Branded Drinkware
Elevate your marketing efforts with our branded drinkware collection, featuring:
Versatile Selection: From ceramic mugs for cozy mornings to sleek water bottles for on-the-go, our collection caters to various needs.

Brand Exposure: Imprint your logo on drinkware that becomes an everyday essential, spreading brand awareness effortlessly.

Quality Assurance: Our drinkware is designed for durability and aesthetic appeal, ensuring long-lasting brand visibility.
Explore Branded Drinkware Categories
Mugs for Every Mood: Discover a variety of mugs to match your brand's personality, from classic to contemporary designs.

Hydration on the Go: Our customizable water bottles combine style and practicality for active lifestyles.

Elegant Glassware: Impress clients with branded glasses suitable for events, celebrations, or gifts.

Disposable Solutions: Choose from our range of branded paper cups, ideal for events or eco-conscious campaigns.
How to Order Custom Drinkware
Request a tailored quotation for your branded drinkware selection in three easy steps:
Selection: Browse our catalog and note down the items you'd like to customize.

Quotation Request: Click the "Request for Quotation" button below to access our form.

Customization Details: Fill out the form with contact information, selected items, quantities, and any customization preferences, or just simply get in contact with us for a Consultation on your brand need. Submit the form in our contact page to get your personalized quotation or answers.
Discover Your Branded Drinkware Solutions
Elevate your brand's presence with Tawasol by CCMC's custom branded drinkware. From morning coffee to hydration essentials, each sip becomes an opportunity to connect. Start your branding journey today!
Explore other categories in our promotional items and gifts collection: Apparel, Writing Instruments, Bags, Tech Items, Home Office, and Accessories.