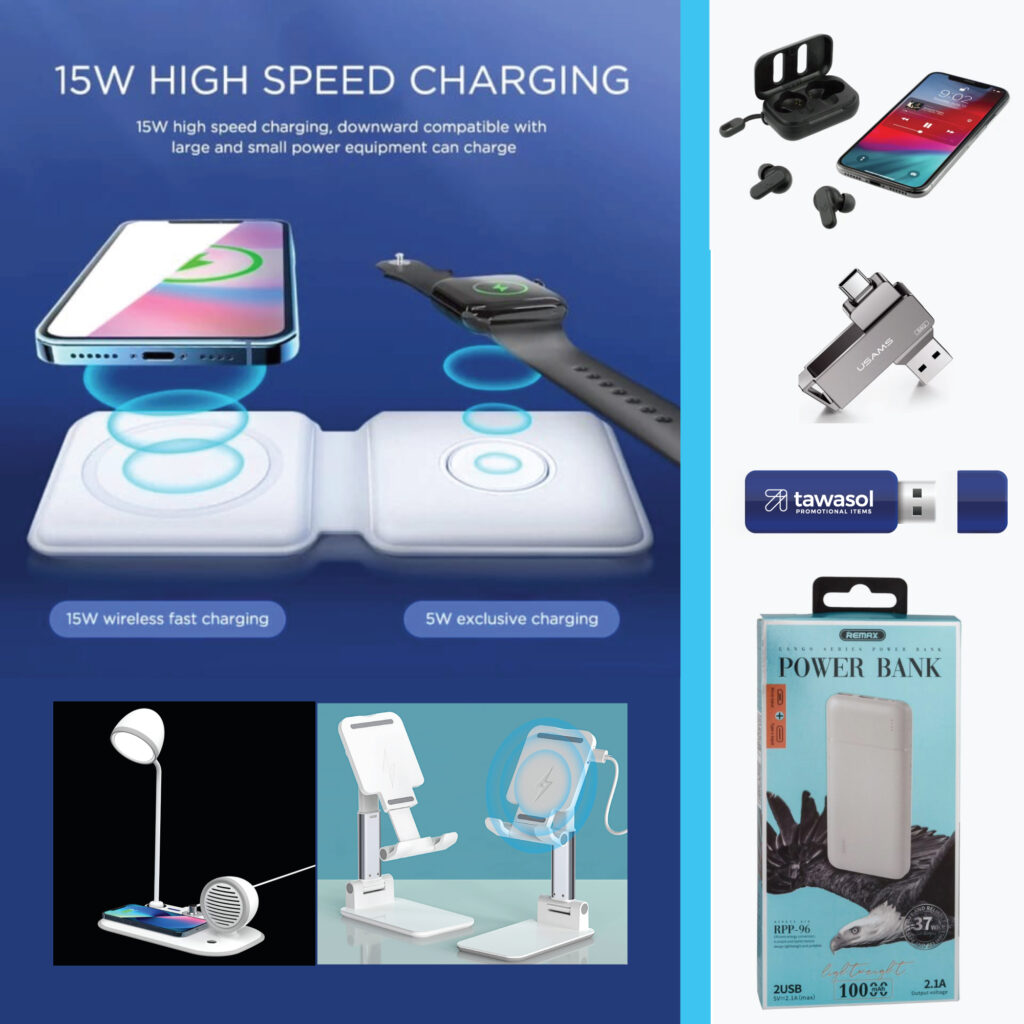 Welcome to Tawasol by CCMC's Custom Tech Items collection. Enhance your brand's tech-savvy image with our selection of personalized gadgets and tech accessories. Embrace innovation and make your brand stand out in the digital world.
Why Choose Our Tech Items
Elevate your brand's tech quotient with our custom tech items, featuring:
Cutting-Edge Gadgets: Stay ahead in the digital age with branded tech gadgets that impress your audience.

Practical Accessories: Explore tech accessories that blend utility with branding, making them ideal for daily use.

Personalized Tech: Customize tech items to mirror your brand's identity, ensuring memorable interactions.
Explore Tech Item Categories
Gadget Innovations: Discover a range of tech gadgets, from USB drives to wireless chargers, that are ready for your brand's imprint.

Tech Accessories: Enhance your brand's visibility with personalized tech accessories such as phone cases, earbuds, and power banks.
How to Order Custom Tech Items: Request a personalized quotation or a free consultation to find the perfect tech items for your brand:
Selection: Browse our catalog and select the tech items that align with your brand's digital narrative.

Quotation Request: Click the "Request a Quotation" button below to access the form. Fill it with your contact information, selected tech items, quantities, and customization preferences. Submit for your tailored quotation.

Free Consultation: If you're uncertain about your selection, opt for a free consultation by filling out the form. Our tech experts will assist you in choosing the ideal custom tech items for your brand's tech-savvy image.
Elevate Your Tech Brand
Enhance your brand's tech-savvy image with Tawasol by CCMC's custom tech items. Each gadget is an opportunity to innovate and connect. Start your tech branding journey now!
Explore other categories in our promotional items and gifts collection: Apparel, Drinkware, Writing Instruments, Bags, Home Office, and Accessories.